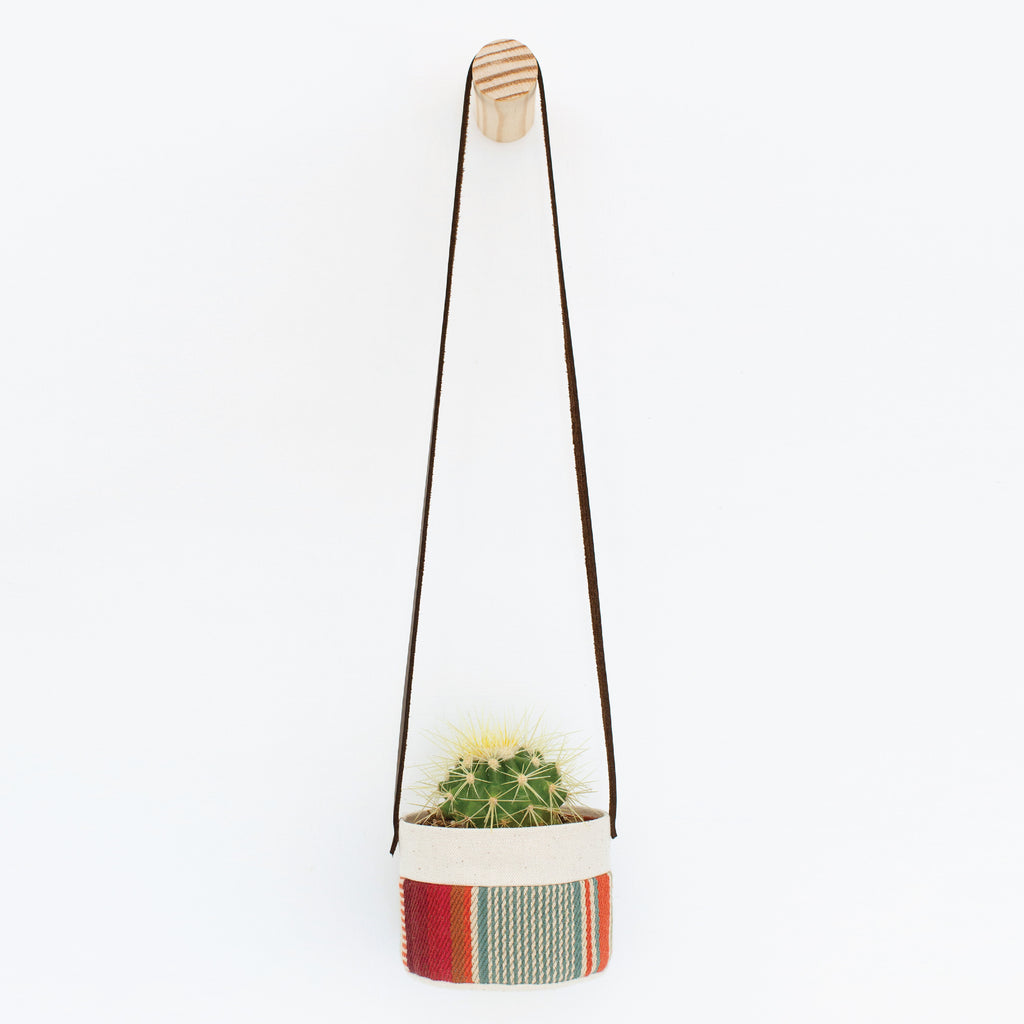 Small Natural Canvas Hanging Planter | Red + Blue
These Hanging Canvas Planters are a smart way to use your vertical space to showcase your beautiful houseplants.
Each planter is handmade using a combination of woven cotton and natural canvas, keeping it lightweight and unbreakable. It is hung by a dark brown oiled leather strap secured with brass rivets. 
Each canvas planter basket includes a plastic planter pot and a saucer 
that fits perfectly inside so the plant can be watered directly, will drain well and stayed healthy...all while protecting the fabric from moisture.
Great for bedroom, living room and bathroom decor, as a housewarming gift, sprucing up your office, or to decorate your RV or tiny house. These are designed for indoor use but can be placed outdoors away from moisture and direct sun exposure. 
Not sure how to hang your Hanging Planter? A simple, handsome and easy-to-use
wooden wall peg
(used in image) can be purchased with your planter. The peg is approximately 4" long x 1.25" in diameter with a screw. A plastic anchor is included. The peg is discounted if purchased with a planter, so select above to get the whole look!
D E T A I L S :
4" diameter x 3.5" tall

100% cotton heavy weight natural canvas 

100% woven cotton

Approximately 28" long oiled leather strap secured with brass rivets

4" plastic planter pot and saucer included inside
Placement of woven fabric pattern will vary slightly
I M A G E S :
.....
All Good Company products are handmade in San Jose, California. Some items are ready to ship and some are made to order. Please allow 1~5 days before shipment.
We offer wholesale to retailers, bulk discounts for gifts and events, and custom sizes + fabric options. Please inquire here.